It appears that my recent dust-up with Neil deGrasse Tyson went a little bit viral. Not like cats ringing bells for food viral, but as viral as a cat with a name like Bitches can go. The funny thing is, it wasn't even really my tweet that went viral. It did well.
Evidence that cats are smarter than humans: We didn't elect Donald Trump president. I don't even need a second point. https://t.co/kGo0enjayE

— A Cat Named Bitches (@BitchestheCat) April 30, 2017
But the three thousand new followers in two days didn't happen until it went viral here. And here. And here. And here. And here. And here. And a bunch of other places too. The internet is a weird place.
Neil is my homie, but I told him, it's like my man Omar says, "come at the queen, you best not miss."
That being said, for all my new followers, I wanted to toss a Buzzfeed style "Things You Might Not Know About the Cat Who Threw That Hot Fire at Neil deGrasse Tyson" post at you to give you all a chance to get to know me outside of what you can read in my Twitter bio. Really though, it's to give you a chance to realize the horrible mistake you made and move on before I notice you were even here. Or you can stick around, realize I say fuck a lot, and try to sneak away in the cover of darkness on some yet to be determined night, at which I point I will publicly chastise you for unfollowing me. But I digress…
1) I was blocked on Twitter by Donald Trump.
If you want to know the specifics of how that happened, I documented every tweet just in case the Library of Congress ever comes calling. All those tweets are available to pawruse at your convenience: Part 1, Part 2, and Part 3.
Do we really want a President who can't handle criticism to the point he blocked a cat on Twitter? #Trump2016 pic.twitter.com/frJMXFfaQH

— A Cat Named Bitches (@BitchestheCat) June 16, 2015
2) I was blocked by a bunch of other nice people too. 
I had to leave Kirstie Alley and countless others out of this little montage. The layout app only has nine slots 😹 Editor's Note: I forgot Curt Schilling. Fuck that crazy bastard. He should have been on my Wall of Shame. He's not worth the time it would take me to swap out History in Pictures though. Next time.
3) I've won awards (award) for my hatred for Donald Trump.
Donald Trump is an incompetent bigot and a completely awful human being. I'm proud that I opposed, and was blocked by, Trump before he was even running for President. Being named the Best diabolically Trump-hating cat to follow on Twitter in Chicago was a very proud moment.
4) I ran for Mayor of Chicago. And lost.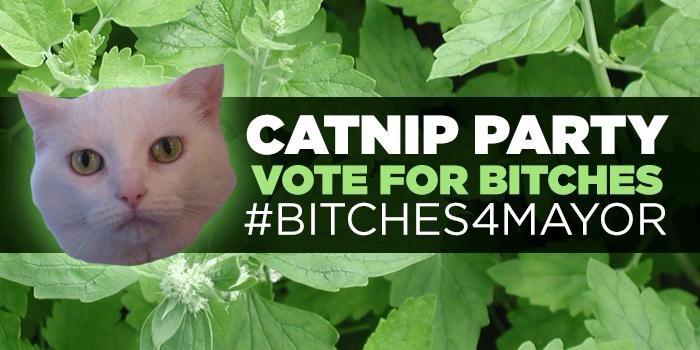 But I did make it to the televised debate. So that was cool.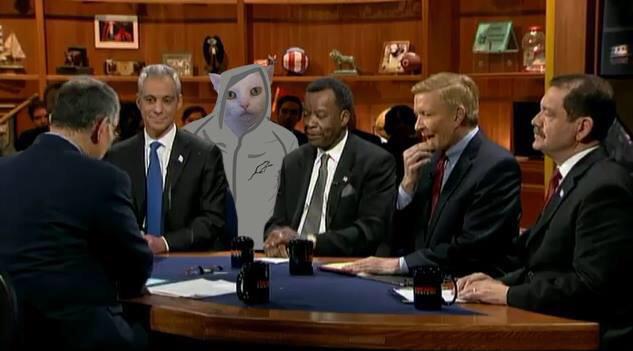 5) I also walked for President of the United States. And lost. 
Getting back to the whole Neil deGrasse Tyson thing. If humans were smart, more of them would have voted for me. But now you're all fucked. You can read more about why I got into politics in my first, and only, Purresidential sit-down interview here. Equal-time my ass.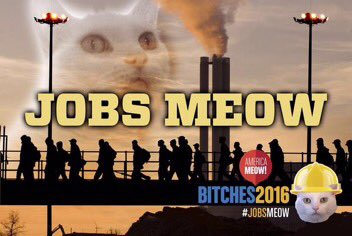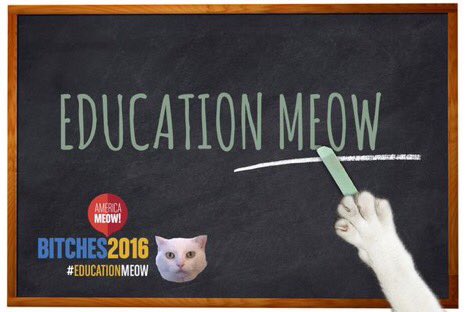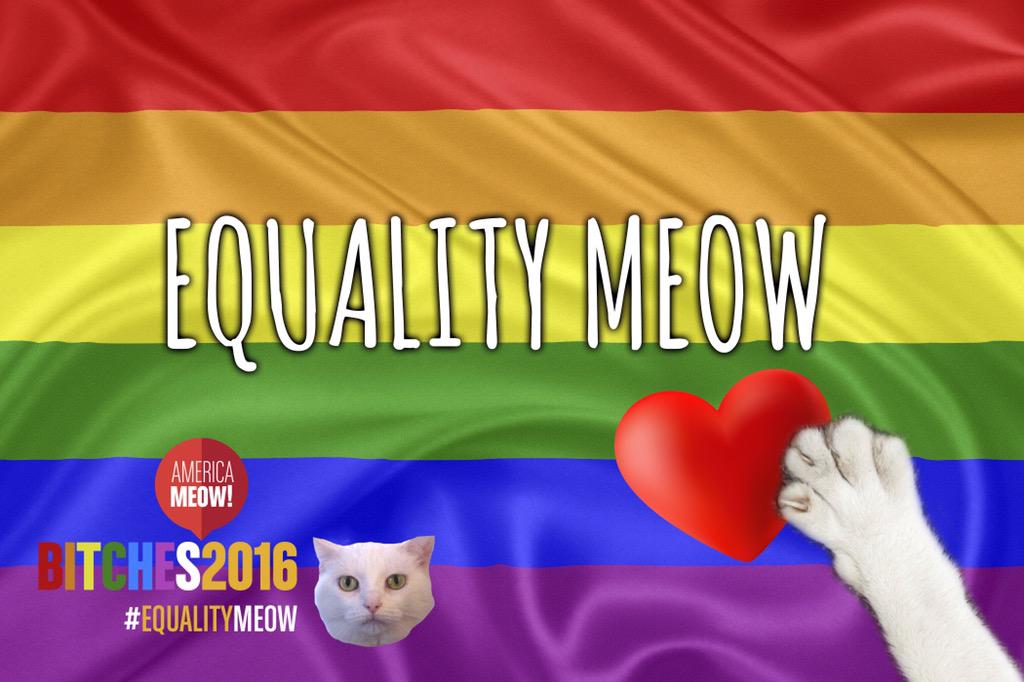 Learn more about my platforms at the Bitches 2016 page.
6) I may or may not be wanted by the F.B.I. 
My cattorney has told me I've already said too much.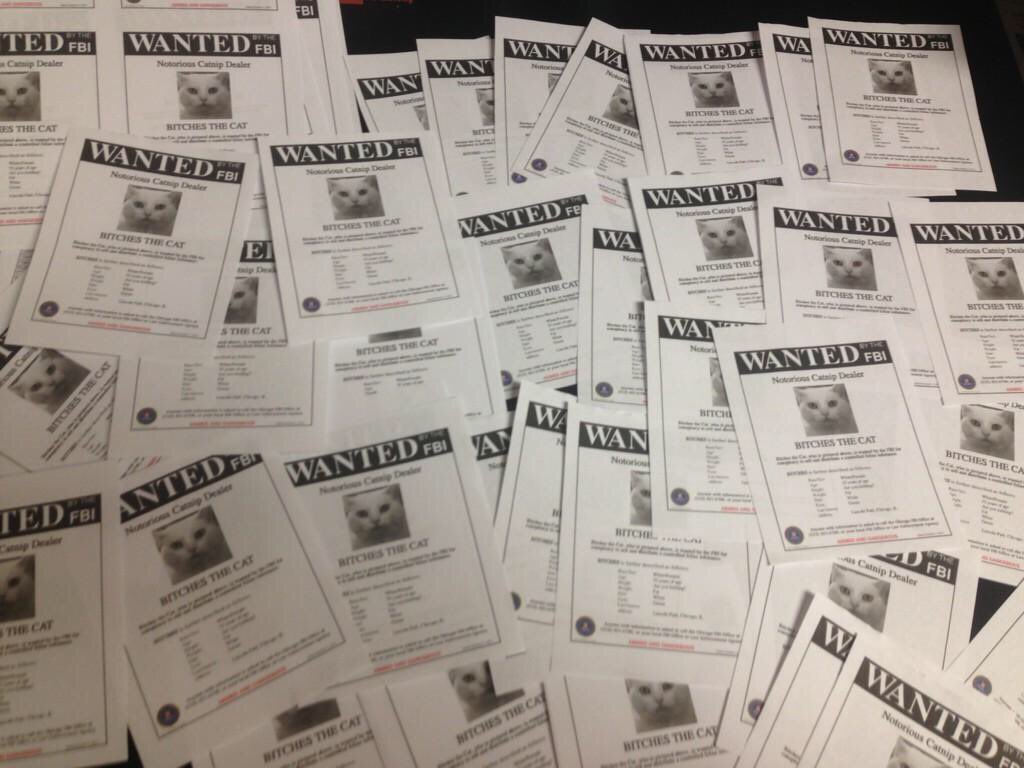 7) I created the #catsjudgingkellyanne hashtag. And it was glorious.
Kellyanne Conway has a problem with cats? Well, as Neil deGrasse Tyson found out, then I have a problem with her.
https://twitter.com/BitchestheCat/status/809840127145033728
And apparently a lot of other cats had a problem with her too, because we trended number one in the country for a hot minute.
Number one trend in the country, motherfuckers. Eat it @KellyannePolls. #catsjudgingkellyanne pic.twitter.com/ZhNAgpjfdC

— A Cat Named Bitches (@BitchestheCat) December 17, 2016
8) I live in a pawesome catsle.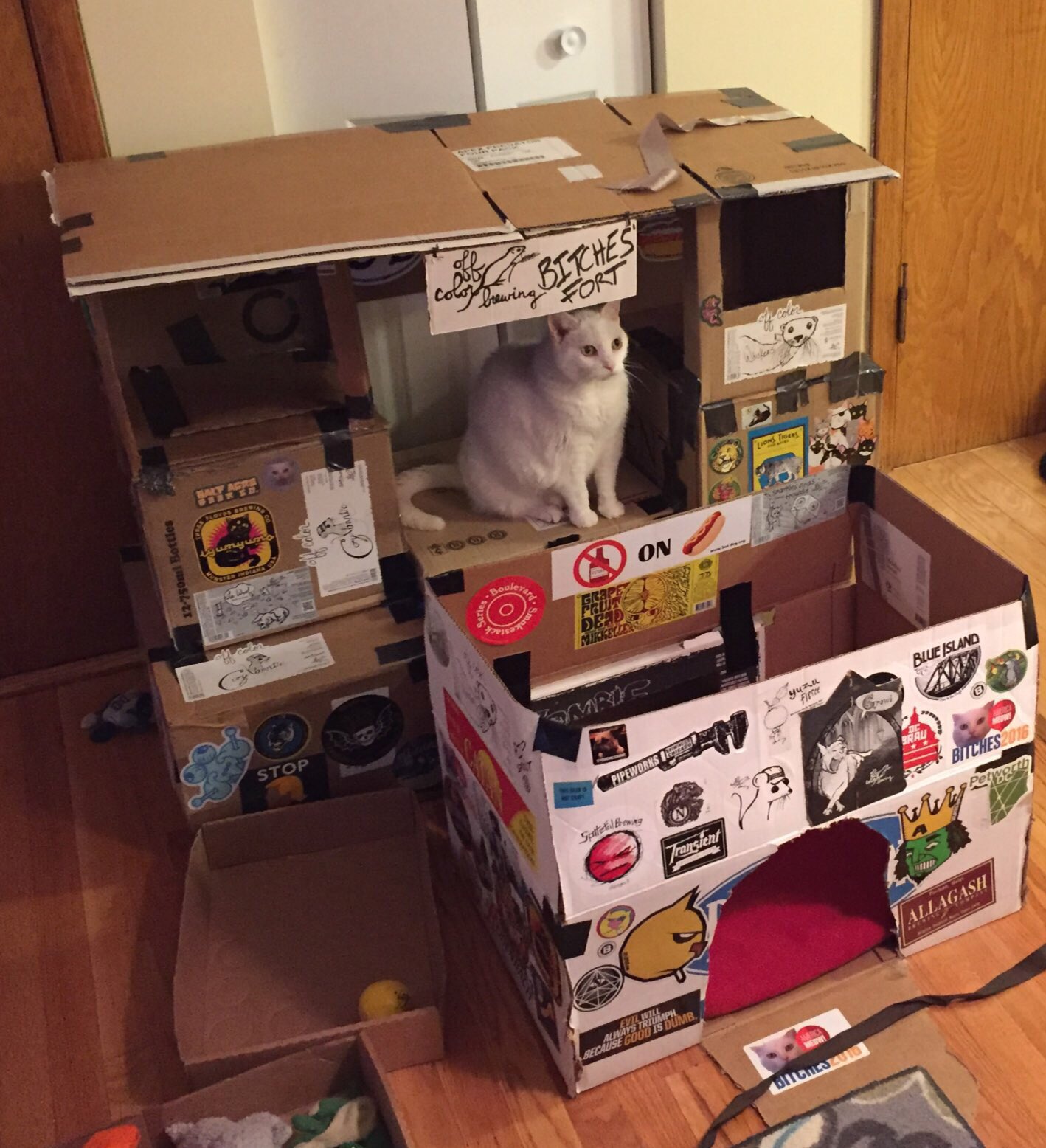 9) But my stupid little brother Floof Lion and my murdery little sister Kiddo made themselves comfortable and moved in.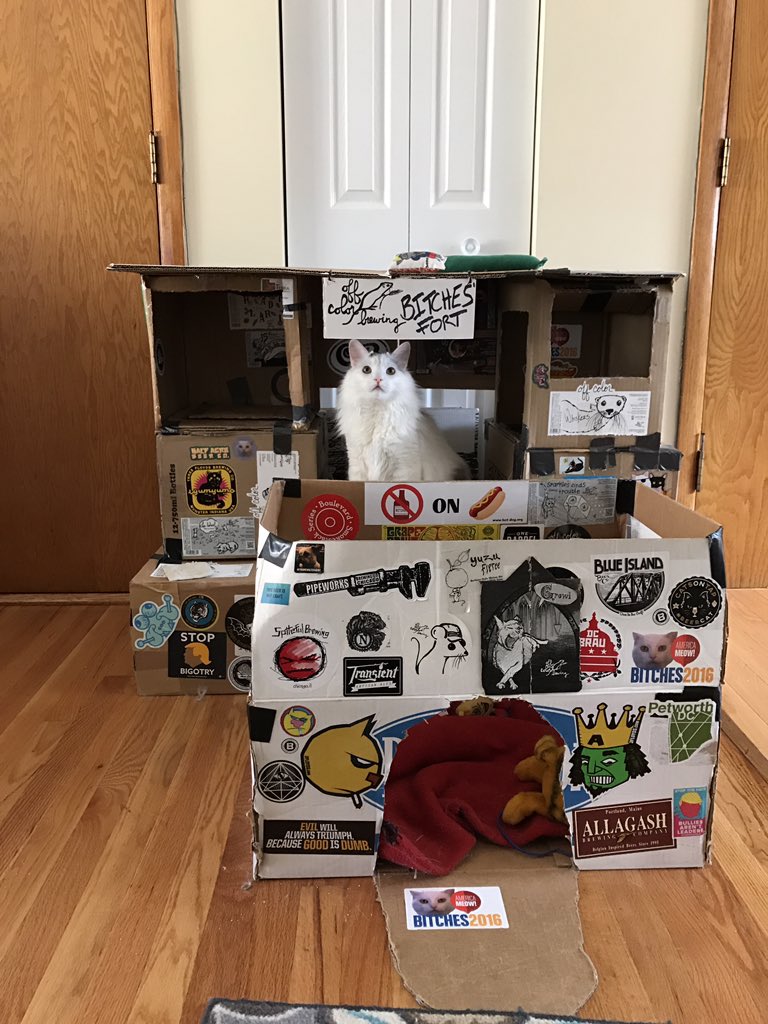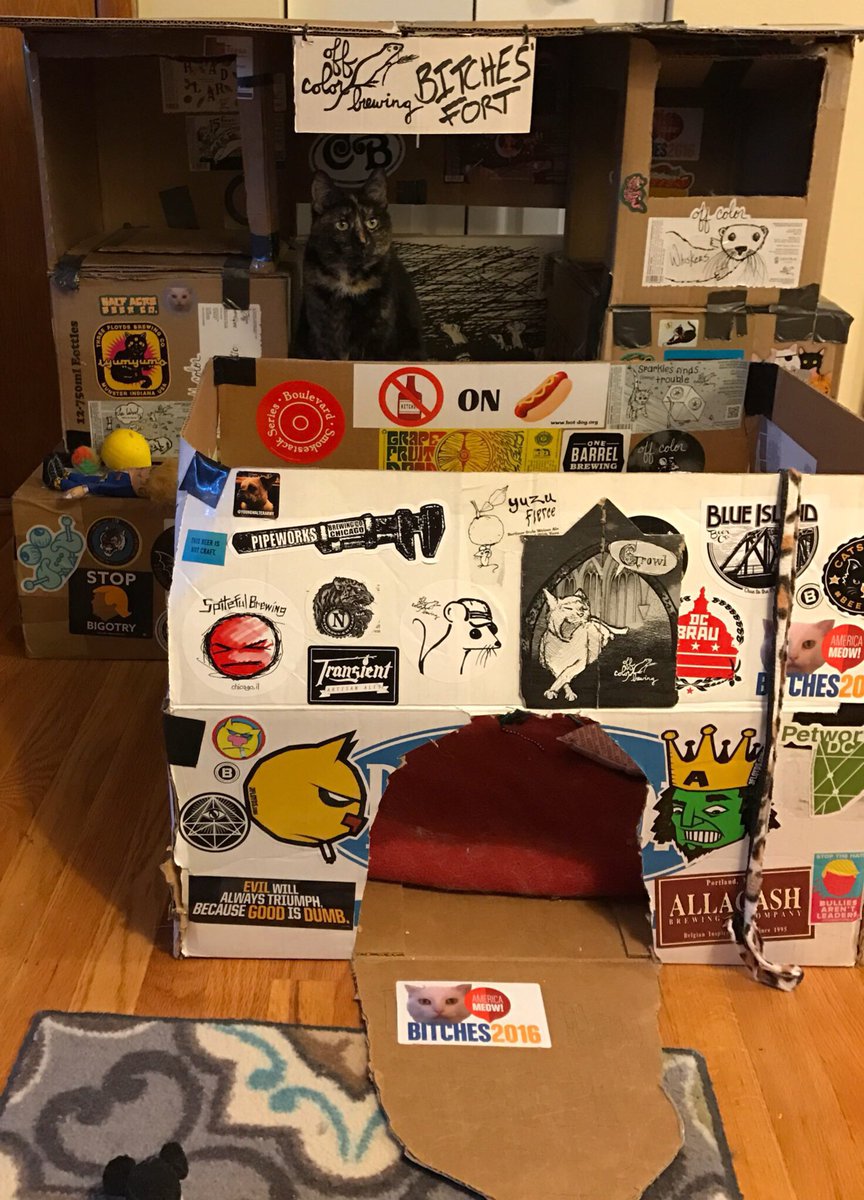 10) I'm on an Off Color Brewing 4-pack carrier.
Look for Growl if they ever brew it again. Ten dollars for artwork, and paw work, like that. No better deal. And four free beers on top of it.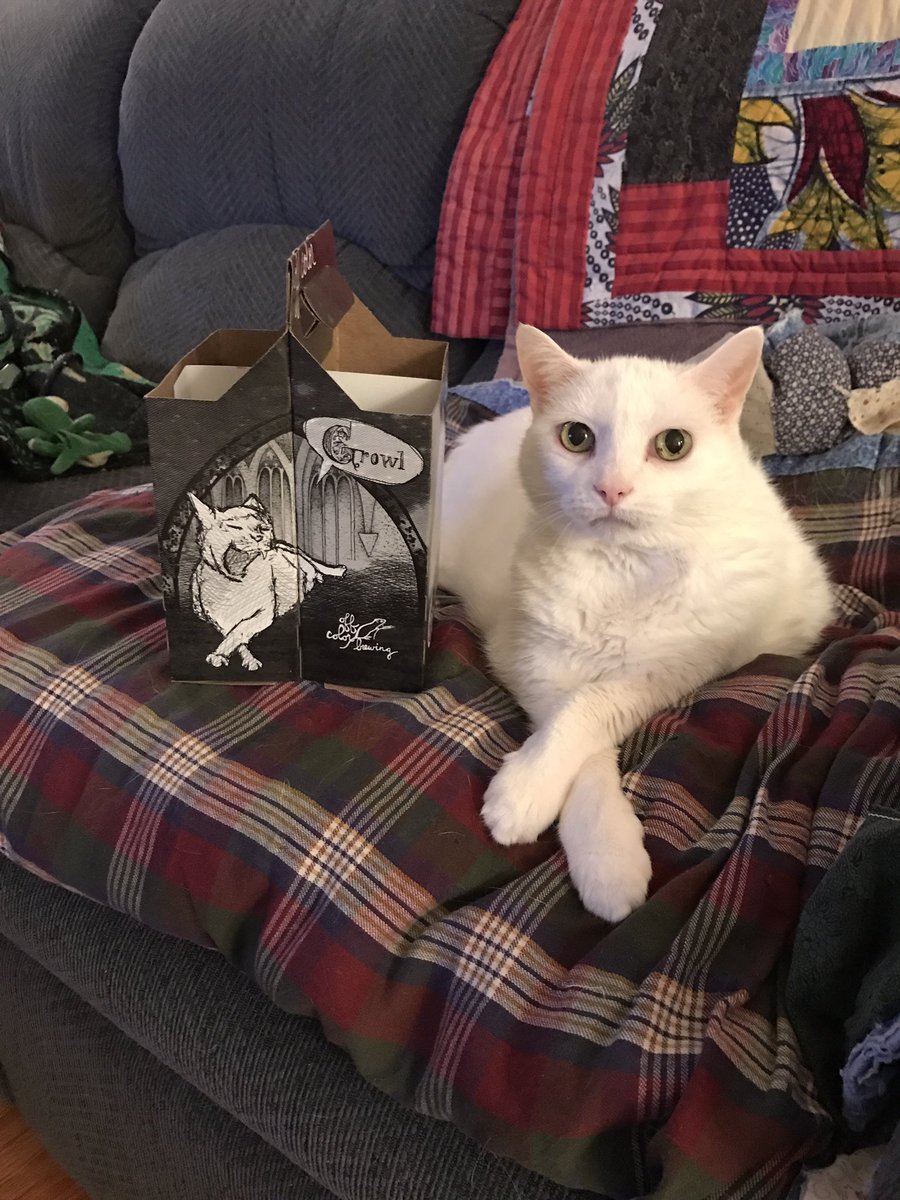 11) But John Laffler doesn't own me.
We've added this to each of our Twitter bios to clarify and still no one believes us. He is not my owner. He does not own me. I mean, I've only met the dude once.  Seriously. This isn't one of those "a cat has no owner" situations. Although we don't. We're independent beings compelled by forces you'll never understand. That Laffler guy does have access to some pretty sweet cardboard though.
And that's it. If you want to learn more about me. You're on my website. Stay here. Read some articles. I need to go take a nap meow.